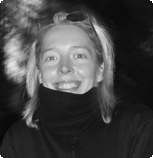 Halley Bock has been involved in the film and video community for over 10 years. She began her career in 1992 when she set sail for New York and begged her way into Captain New York -- a newly established state-of-the-art HDTV production company. Based in the famous and newly renovated Ed Sullivan Theater, it was here that the company filmed Aerosmith and Crosby, Stills, and Nash for MTV Unplugged; Tony Bennett, Mick Jagger, Jackie Mason and many other great artists for their initial HDTV productions. During her time there, Halley was also heavily involved in producing a Montreux Film Festival 1st Place Winner 'Nobody's Fault But Mine' -- a sensual, gritty tribute to Led Zeppelin's 1976 hit song.
Following this experience, Halley re-located to Seattle in 1994 and quickly immersed herself in the local video production scene as both a Director and Producer. At this time, she also began designing web sites to much acclaim for clients such as AT&T Wireless Services. With a constant eye on emerging technologies and ceaseless exploration of new avenues in which to create, she was sought out by RealNetworks to produce and direct their first video productions ever intended for streaming media use.
In 1997, Halley joined RealNetworks' staff on a full-time basis and continued her pioneering efforts into programming and producing for the newly established Internet audience. During her illustrious career, she served as Executive Producer as well as Manager of RealNetworks' MediaLab -- the team responsible for producing content for the company's family of web sites. She has produced numerous large-scale award-winning web events; developed a variety of Internet-specific original programming; conceived of and designed a number of user interfaces and online environments; and was frequently called on to speak at several industry-leading events such as NATPE (National Association of Television Programming Executives), Digital Hollywood, RealConference, the Webb Foundation, and W.I.T. (Women in Technology). Halley also fulfilled key roles in the creation, deployment, and management of both RealNetworks' Take5, a daily Award-winning 'Best of the Web' streaming program, and GoldPass, its premier subscription service.
Halley has written expert tutorials for Hungry Mind's The Streaming Media Bible and actively contributes her industry expertise to several local start-ups, think tanks, and non-profits. Halley currently sits on the Board of Advisors for the Multimedia/Web Design Department of the Art Institute of Seattle.